About EMS
EMS, Inc. is 3D scanning and engineering services firm. Founded in 2001, we specialize in providing advanced 3D scanning, software and engineering services for solving complex dimensional measurement challenges in quality control or reverse engineering applications. Our products and services help aerospace, automotive, PowerGen and industrial equipment manufacturers measure parts faster and more accurately so they can reduce the time and cost of bringing products to market. EMS serves commercial and industrial customers in the aerospace, automotive, military, consumer products and art/entertainment sectors. .

EMS thrives on solving large complex 3D scanning and modeling challenges. With over 18,000 projects completed and hundreds of systems sold, EMS has the 3D technology, equipment and expertise to help you determine the best solution for your organization.


3D Scanners & 3D Scan Services
EMS offers a full line of best-in-class short, medium and long-range 3D scanners from Creaform, Surphaser, API, and LaserDesign, along with the leading inspection, reverse engineering and 3D CAD software. Prefer not to purchase your own equipment? No problem, EMS's experienced engineering staff offers on and off-site 3D scanning, modeling and CAD development services.


3D Software
EMS is an authorized reseller for SOLIDWORKS, Geomagic & Innovmetric Polyworks - market leaders in 3D design and engineering software for 3D CAD, 3D scanning, reverse engineering and inspection.

Request a custom 3D scanning quote online at anytime by selecting the Get a Quote button on any page. Or simply contact us with questions or to request a custom demo.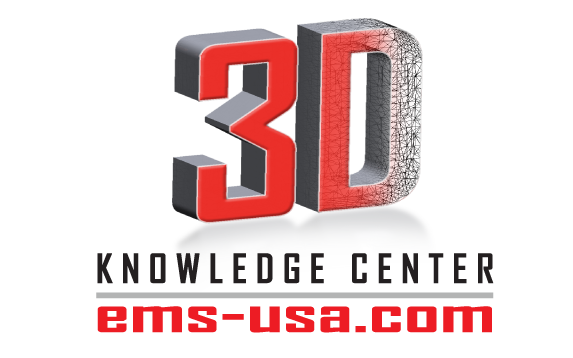 EMS 3D Knowledge Center
EMS is committed to helping organizations better understand how 3D printing and 3D scanning technologies can improve product design efficiencies, product quality and time to market. The EMS Knowledge Center includes a wide range of information, including technical and application white papers, 'how to' videos, sample projects, images, and other useful materials. We are always adding information, so check back often to see what's new.
Start Learning